Airline emissions make up more than three per cent of total greenhouse gas emissions in Canada, slightly less globally. We are more often seeing news articles and headlines about the aviation sectors impact on global warming. Global populations are not willing to curtail their desire for travel.
After the lifting of pandemic travel restrictions, aviation is projected to resume its global expansion to meet the demand of both business and leisure travel.
Electric Aircraft
Electric aircraft have appeared on the market but are limited in both size and endurance. This makes their expansion beyond general aviation and into air transport very unlikely in the long term and impossible in the short term.
A recent report, however suggested that hydrogen-powered planes could enter the market as soon as 2035, and those planes could carry hundreds more passengers per flight than traditional planes, with a cleaner energy source.
However, despite hydrogen being the most abundant element in the universe, commercial production, distribution and storage technology will still not be completely carbon free as current hydrogen production is by natural gas reforming/gasification synthesis gas—a mixture of hydrogen, carbon monoxide, and a small amount of carbon dioxide—is created by reacting natural gas with high-temperature steam. The carbon monoxide is reacted with water to produce additional hydrogen. This method is the cheapest, most efficient, and most common. It is estimated that this process will reduce the amount of carbon emissions by over 50%
Going Beyond Traditional Wing Design
A blended wing design combines the wing and the fuselage into a single unit, so the entire aircraft provides the lift for the flight. Delta wings – like those used on the Concorde and high-speed military jets – may also be incorporated into commercial planes. KLM is also working with Delft University of Technology on a 'Flying V' plane that has passenger cabins down each side of a v-shaped aircraft. The company claims this type of plane could offer 20% more fuel efficiency than the A350.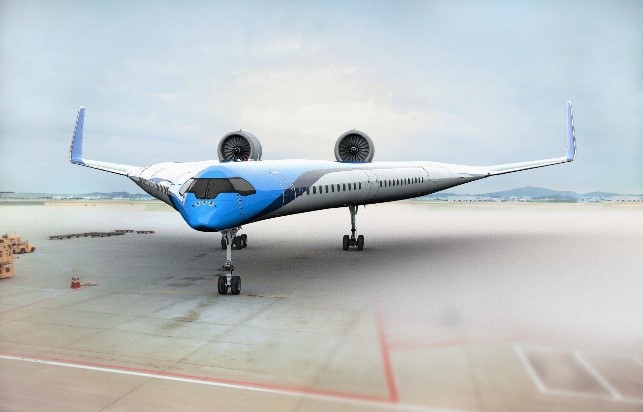 The Return of Supersonic Flights
A Denver company, Boom Supersonic is in the process of developing a new supersonic airliner, the Overture, with a pledge to be carbon neutral by 2025 and building in end of life recyclability during manufacture. United Airlines plans to buy fifteen new Overtures with options on more and hopes to "return supersonic speeds to aviation" by the year 2029. Previous supersonic passenger flights ended in 2003 when British Airways and Air France retired the Concorde. The definition of supersonic flight is when an aircraft travels faster than the speed of sound, which is approximately 660mph (1,060km/h) if the plane is traveling at an altitude of 60,000ft (18,300m).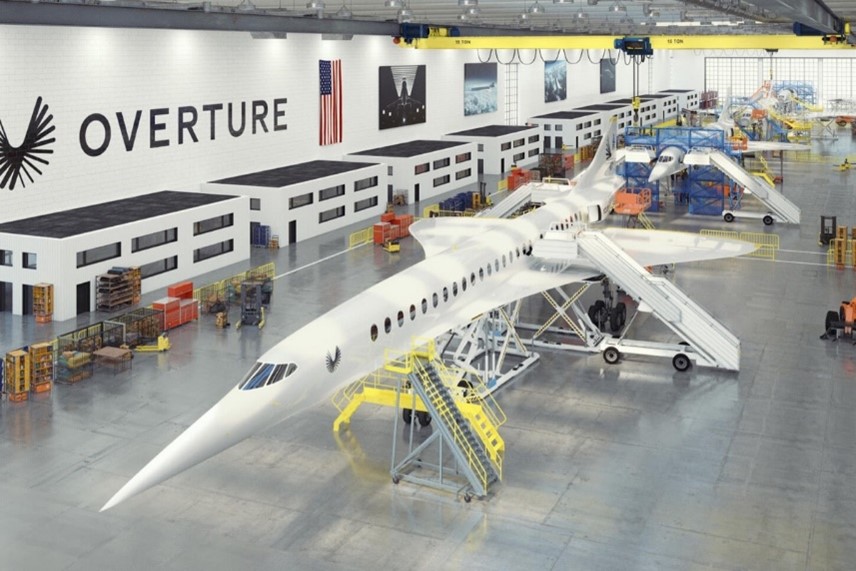 Air Taxis
Air taxis either piloted, or autonomous with 5g connectivity. Compared to just a few years ago, it felt like flying cars were still a distant sci-fi future. But investment has increased rapidly, and several companies are now building air taxis to make our city journeys faster, easier and cleaner. Quiet, comfortable, and carbon-free, eVTOLs promise to rise above congested roads, easing urban transport issues while getting passengers to their destinations in record time. Regulators are engaged in preparing the regulations and infrastructure required to ensure the safe adoption of this new technology, but with innovation outpacing the rate of regulatory change, unless there is a political will to prioritize the new technology Jetson style flying cars could still be several decades away.

Better In-Flight Entertainment
Dealing with the monotony of long-haul flights when sitting in coach has long been a source of dread for budget travelers. In-flight entertainment options of the future will include more screens, more gaming, and even the ability to take e-courses during your flight. Research into developing ways for passengers to improve wellness on flights by setting up lighting to regulate circadian rhythms and dampening cabin noise to promote better sleep is ongoing.
Alaska Airlines and British Airways have trialed SkyLight's VR headsets in first-class cabins on selected routes. As the development of the metaverse continues, we will likely see more opportunities for passengers to enjoy immersive experiences while flying.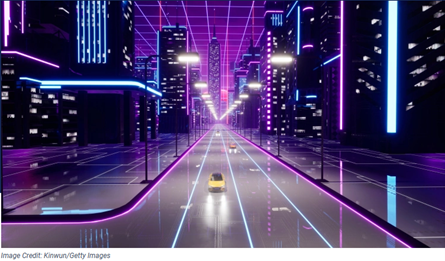 The public may no longer see aviation as a glamorous industry. A form of transport that after two decades dominated by cut price airlines and miserable travel experiences urgently needs reinventing. The future promises faster long-distance flights with reduced environmental impact, greater penetration of aviation into our everyday lives with air taxis, and new technology enhancing the flying experience. Hopefully these innovations will lead to more interest in the industry and more young people looking at aviation for a challenging and rewarding career choice.